Teeth Friendly Alpharetta & Johns Creek Middle School Food Options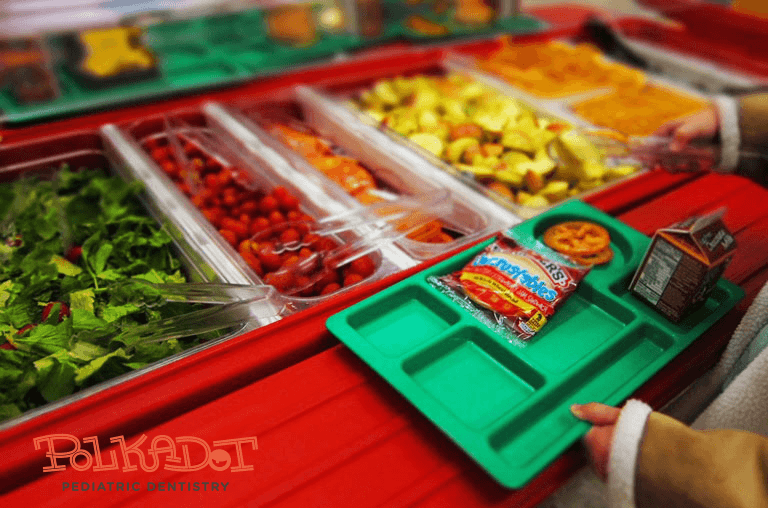 This piece is a continuation of our Alpharetta & Johns Creek elementary school guide to food. Though the food options for the middle school are similar, there are differences and we want to provide resources for our parents who are concerned about their pre-teens.
Throughout the piece we will be showing the menus that have been provided by Fulton County School District. These food options will be the same for Alpharetta and Johns Creek middle schools. You can also get access to them here.

Alpharetta & Johns Creek Middle School Breakfasts
The middle school breakfasts offer more alternatives as opposed to the elementary school breakfasts. Every day students can pick through 4 different options as opposed to 3. These items repeat every two weeks.
Some of the items that we would encourage your child to pick out are:
100% Juice & Assorted Fresh Fruit: Fruit is always a great option for kids. Now remember that fruit and juice can have high concentrations of natural sugars which can eat away at teeth. When drinking juice, encourage your kids to use a straw so that their teeth are not soaked in juice. Juice is healthy but has its own downfalls to be aware of.
Yogurt & Dairy Options: Yogurt is always a strong option that kids can partake in. On our blog we have repeatedly lauded the great benefits of yogurt and how it can even help strengthen teeth. The important thing is to avoid yogurt that is high in sugar.
Unfortunately, when looking through the breakfast menus for the middle school students we found more items of concern than we found to be positive. Here are some items that we were particularly concerned about.
Biscuits: We hate to put this on here because biscuits are just so good. However, biscuits are a very starchy carbohydrate and pastry that is often full of extra sugars. Biscuits are a really popular item in the Alpharetta school breakfasts, but we encourage your kids to stay away from these choices.
Cereals & Bars: It's no secret cereals are filled with sugar. Even those that are marketed as healthier can still be loaded with sugar. When trying to understand whether a product is full of sugar or not you can just look at the label. However, another way to tell is when you see grains stuck together. For example, most nutrition and energy bars are filled with different ingredients, packed together. Well, sugar is what keeps them together. These can be deceptive and increase exposure of your teeth to sugar more than you had originally thought.
Mini Pancakes & French Toast Sticks: Pancakes and French Toast is a starchy product as is, however, what often makes these products terrible for your teeth is the extra syrup that is typically added. Now we were not able to confirm whether or not these choices at school came with syrup already added or on the side for the students to use, however it is always best to play it safe and avoid. If you know if the pancakes and/or french toast has syrup added with it, please comment!
For those families that have the time or budget, we even encourage looking to breakfast options at home.

Alpharetta & Johns Creek Middle School Lunches
The middle school lunches in Alpharetta are replete with options that kids can pick from. Just look at the image and you'll have to squint a little since the font is so small. We're happy to see so many options and below is what we've done to help you establish which are the teeth friendly ones.
Teeth Friendly Entrees
Wrap of the Day: The first thing we wanted to put on this list is the "Wrap of the Day". This is because of all the lunch items we feel like these wraps may be one of the healthiest entree items that is on the lunch menu. Wraps are great because they include all the veggies, meats and cheese that you want, without it being wrapped in starchy carbohydrates. You'll notice that there are many items that are extremely starchy, including breadsticks, sandwiches and burgers.
Chef Selection Salad: We also wanted to include the "chef selection salad" because even more so than the wrap it is extremely healthy for your teeth. With green veggies, it will give your kids the fiber that helps stimulate saliva to combat cavities and plaque. If they load the salad with ranch or dressing, it will curb some of the benefits, but still a relatively healthy dish. It may be hard to get your pre-teen to eat a salad every day, just encourage them that it is a healthy option for whenever they may feel like choosing it.
Chicken: Chicken is always a lean meat that is healthy for your kids and also their teeth. Chicken appears quite often on the list and is something we encourage our patients to choose. The chicken dishes always seem to come with very starchy items like the "Chicken Nuggets with Garlic Breadsticks" or the "Chicken and Waffles". However, they can choose not to eat the breadsticks and waffles and stick to just the chicken.
Other honorable mentions that we want to include is the "Yogurt & Cheese Plate" as this combines two of the best foods for your teeth. They're also braces-friendly for any kids who may be undergoing orthodontic treatment. There are a few extra considerations kids with braces need to take when they're picking their meals at school. Head over to this guide to orthodontics from Showtime Smiles in McKinney if you'd like to read more about these restrictions. 
Unhealthy Entrees
Fresh Deli Subs: We encourage parents to be careful with the sub sandwiches. White bread is often packed with sugars and can get stuck to teeth and become harmful. The problem with subs is that if you just think about the sheer size of the sandwich, the bread makes up over 75% of the entree. That means it's bread than anything. Eating this too much can leave your child's teeth susceptible.
Nachos: Though everyone likes some nachos, your kids need to be careful with those nachos. Quite simply, nachos are chips have the same downfalls as starchy foods like bread. They can get stuck and trapped in your teeth, where bacteria will begin to break down the food and your teeth. There are a couple variations of the nachos, but its best to stay away from them altogether.
Jamwich: Jam is similar to syrup in that it is concentrated sweetness and sugar. For your child to eat a Jamwich, it will be sugar concentrate jams with white bread. That may a combo of 2 of the worst foods for your teeth in one. It's easy to overlook this as peanut butter and jelly sandwiches are such a staple of traditional American school lunches, it really is something that can cause problems in your children's teeth.
Some other foods to be concerned about are any dishes with a large amount of rice or pretzels. Rice and grains are seem as an important part of the food pyramid, but if we are talking strictly the teeth, it is not something you should be consuming too much.
Students also get a side with their dishes. Nobody's perfect and we can't ask them to be always eating salad, carrots and vegetables, but those sides seem to always be available. It's best to talk to your kids about balancing everything out. If they are eating a sandwich, eating tater tots would be carbohydrates overload.
However, if their eating a fairly teeth friendly lunch, some tots wouldn't hurt. It's all about balance and awareness. Try your best to encourage not carb heavy lunches like "Chicken Alfredo with Garlic Breadsticks" and "Oven Baked Tater Tots" for lunch. Instead of the tots, they can go for carrots and fruits to balance everything out!
Contacting the Local Schools
It's always best to get an actual look at the food so you can look at the nutritional information. In addition, sometimes food is just different from what you had in mind. Something can sound super healthy and when it comes out, it's riddled with sugards you didn't expect.
Alpharetta
Haynes Bridge Middle School
10665 Haynes Bridge Road
Alpharetta, GA 30022
470-254-7030
Holcomb Bridge Middle School
2700 Holcomb Bridge Road
Alpharetta, GA 30022
470-254-5280
Webb Bridge Middle School
4455 Webb Bridge Road
Alpharetta, GA 30005
470-254-2940

Johns Creek
Autrey Mill Middle School
4110 Old Alabama Road
Johns Creek, GA 30022
770-521-7622
River Trail Middle School
10795 Rogers Circle
Johns Creek, GA 30097
770-497-3860
Taylor Road Middle School
5150 Taylor Road
Johns Creek, GA 30022
770-740-7090
At the end of the day we want parents and kids to use this as a guide. Not as a strict hard rule that makes everything so restrictive. It's a balance!
If there are any additional foods that you think we forgot to include or if you have any specific questions about certain school foods, give us a shout on the comments below!