Prevent Oral Injuries During Baby Safety Month & Every Month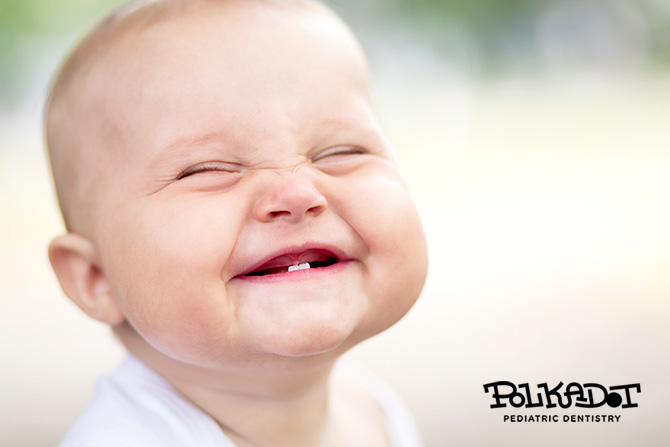 Alpharetta, GA – September is Baby Safety Month, and the official focus for 2017 is on the importance of properly using straps on all juvenile products.
Our Pediatric Dentist at Polkadot Pediatric Dentistry are focusing on oral injury prevention during this month-long health observation. Read on for important statistics, as well as tips for preventing oral injuries in your children from infancy to adulthood.
Be gentle when feeding your baby. An eating utensil forced into the mouth can tear the skin between the lips and gums.
Proper use of straps on children's products goes a long way toward preventing falls that can cause oral injuries in babies and small children. This includes car seats, carriers, strollers, swings, walkers and other seated toys. Even when straps are used properly, don't leave your baby unattended in a carrier placed on a bar or tabletop, or even on the seat of a piece of furniture.
Falls are the leading cause of nonfatal injuries in children from birth to age 19. About 8,000 children are treated in emergency rooms for fall-related injuries each day in the United States, according to Baby Safety Zone.
Children between 18 months and almost 4 years of age are most likely to experience dental trauma to their baby teeth due to falls, because these are the ages at which they learn to run. Parents can help lower that statistic by keeping an eye on their children and taking measures to prevent falls.
Have your toddler sit down when drinking from a sippy cup or a bottle. Roaming around with objects in the mouth increases injury chances, should your child bump into something.
Schedule an appointment with your pediatric dentist if your toddler falls and knocks out a baby tooth. The baby teeth play an important role for the adult teeth by maintaining space and creating a path for the adult teeth to erupt. It may be necessary to maintain the space left by prematurely losing a baby tooth.
Injury Prevention for Older Children
Preventing injury isn't just important for babies, but for children of any age. Half of children experience dental injury, and it is most common in children ages 8 to 12, according to the International Association of Dental Traumatology. Fractured teeth are the most common injury, and boys are twice as likely as girls to be hurt.
Children ages 7-11 are most susceptible to sports-related oral injury. Sports accidents account for between 10 percent and 39 percent of dental injuries in children, according to the American Academy of Pediatric Dentistry.
If your children play sports, have them fitted for mouth guards to prevent orofacial trauma caused by a fall, collision, contact with a hard surface, or contact from sports-related equipment.
Sports such as baseball, basketball, soccer, softball, wrestling, volleyball, and gymnastics lag far behind in injury protection for girls and boys, according to the AAPD. Baseball and basketball have the highest occurrence of sports-related dental injuries in 7- to 17-year-olds. Baseball-related oral injuries are highest among 7- to 12-year-olds, and basketball-related dental injuries are highest among 13- to 17-year-olds.
The AAPD encourages children who play baseball and softball to wear ASTM-certified face protectors to help prevent injury.
Organized sports aren't the only ones that can cause dental injuries. Protective equipment can help prevent injury while skateboarding, inline or roller skating, and bicycling.
Does your child have severely protruding teeth? If so, schedule an appointment with a dentist or orthodontist to determine if correction measures should be taken to reduce the chances of injury.
About Baby Safety Month
The Juvenile Products Manufacturers Association founded Baby Safety Month in 1983. Originally known as "Expectant Mother's Day," the celebration has grown into a full month of information, education and focus on infant safety.