How to Protect Your Child's Teeth During Sports Season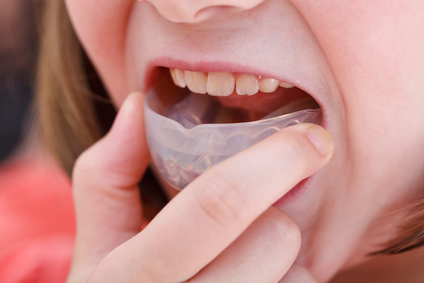 ALPHARETTA, GA – Spring is just around the corner, and with the promise of sunshine and warm weather, your child might be excited to start new sports.
Athletes are 60 times more likely to encounter an oral injury if they don't wear properly fitted mouthguards, according to the American Dental Association. It may be even more important to protect your child's mouth if he has braces, since braces can do more damage if your child suffers a blow to the mouth.
Protect Your Child's Pearly Whites
You may think only children who play contact sports need mouthguards. While it's true that physical sports like basketball, football, lacrosse, wrestling, soccer, and baseball may come with more apparent risk of injury, even gymnasts, runners and skaters can suffer oral accidents. Some athletes play more risky positions, leaving them more exposed to collisions. Hockey goalies and baseball catchers should be especially careful with their equipment, since they have more opportunities of being hit in the head, face or jaw. A mouthguard can help protect your child's teeth from a rogue ball or elbow. Some teams even encourage their players to wear face guards to protect them during games. Baseball and softball infielders should protect their mouths from hard line drives and bad bounces. Some batting helmets have jaw and chin guard attachments which can be very effective against batting accidents.
There are a few common mouthguard options on the market. Many dentists and children's orthodontists offer custom-fitted mouthguards to protect their patients' mouths. This is the most useful mouthguard because it's dentist approved and sized uniquely to your child's mouth. Pre-made mouthguards are available in many stores, and while the fit isn't custom, it's still much safer than going without a mouthguard. The third option is a boil and bite mouthguard. With this, you boil and soften the mouthguard and have your child bite down on it. The mouthguard is then molded to your child's bite.
Talk with your Alpharetta child's dentist (and orthodontist, if he or she has braces) to make sure your child's mouthguard offers adequate coverage. Mouthguards protect more than just your child's teeth; they also protect the soft tissues in the mouth — the lips, gums, tongue and inner cheeks — from injury.
Mouthguard Care
Use a mouthguard case that is well ventilated to keep it safe and aired out. Teach your child how important it is to keep his mouthguard clean. Make sure your child rinses the mouthguard before and after each use. Your child can brush his mouthguard with a toothbrush and toothpaste. A well-used mouthguard may start to wear; replace it if you notice this. A worn mouthguard can irritate your child's gums or lips. Make sure your child knows that while sharing is caring, oral mouthguards should not be shared even between the best of friends.
In Case of Emergency
Sometimes accidents happen to the most careful athletes. Don't panic. Have a plan in place in case your child has an oral emergency. Keep your dentist's phone number handy, and call him or her immediately if your child has a tooth knocked out. Your dentist may be able to replace the tooth if you can get to the office soon enough. If your child does experience a blow that knocks out his tooth, clean the tooth and place it back in the socket if possible. If the tooth won't fit in the socket easily, clean it with water and place it in a glass of milk.
Remember to grab a mouthguard for your child athlete this spring, and encourage his teammates to protect their smiles, too.
© 2018 Polkadot Pediatric Dentistry. Authorization to post is granted, with the stipulation that Polkadot Pediatric Dentistry, an Alpharetta, Johns Creek, and Roswell pediatric dentist, is credited as sole source. Linking to other sites from this document is strictly prohibited, with the exception of herein imbedded links.