Children's Dental care, Pediatric Dentist
5 Tips to Help Your Child Conquer His Fear of the Dentist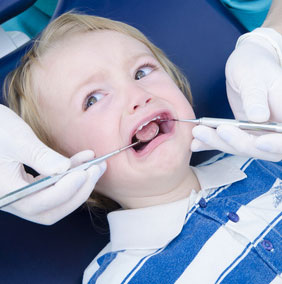 We know there's no reason to fear the dentist, but even so, we know some kids still hold that irrational fear. Is your child afraid of the dentist? We collected some tips to help you empower your child and free him from his fears.
1. Find a friendly dentist.
Do your homework on pediatric dentists in Alpharetta. Visit the dentist's office and meet the staff; see if you feel comfortable and at ease there. If you feel at ease, chances are your kid will, too.
2. Lead by example.
You can't expect your child to be brave if you're apprehensive of the dentist yourself.
Take your child with you to your own dental cleanings. Show them that the dentist is a friend, and that keeping your teeth strong and healthy is important. When your child sees for himself that there's no pain or threat, he'll lose some of his fear of the dentist.
Plus it helps to be able to see the room, the dental chair, the friendly hygienists and office staff. When your kid feels comfortable, he can let his guard down and his fear will melt away.
3. Help your child feel prepared.
Answer all of his questions about the dentist honestly, and don't downplay his anxieties. Take your child's fears seriously, then help dissipate them by completely preparing your child for the visit. Discuss what will happen and why. (The book recommendations below can help, too!)
If you're not sure how to go about explaining what happens at the dentist's office, consider asking the dentist to go over every step in detail. At Polkadot Pediatric Dentistry in Alpharetta, we talk over exactly how and why we go about the dental exam or procedure. Our pediatric dentist shows the kids her tools and makes sure to warn them if there is even a possibility that there may be a little pain.
4. Make the dentist enticing.
There are plenty of ways to get your kid excited about the dentist. We've seen so many fantastic books, toys, and apps that get kids excited for the dentist.
Look for some tooth-friendly books to add to your child's library. Reading books can help your kid know what to expect, and that alone can demystify the upcoming trip to the dentist. Here are a few that we like, though this is only the tip of the iceberg.
The Berenstain Bears Visit the Dentist by Stan and Jan Berenstain – Dr. Bearson, friendly neighborhood dentist, fills Brother Bear's cavity and helps remove Sister Bear's dangling baby tooth.
Cassandra Gets Her Smile Back by Sherri Alpert – This is a great story for teaching good oral hygiene habits and for helping kids prepare for dental visits.
Just Going to the Dentist by Mercer Meyer – Meyer's heartwarming character Little Critter goes to the dentist, gets X-rays, and has a cavity filled, all painlessly.
Show Me Your Smile by Christine Ricci – Follow Dora the Explorer as she visits the dentist and cares for her pearly whites.
If your child has an iPad or iPod Touch, you can download this app called My Healthy Smile. It teaches kids what to expect from a dental visit, including X-rays, tooth cleanings, losing baby teeth, eating balanced foods, and getting a filling. Some kids like windup teeth that chatter; some kids like glow in the dark vampire teeth. We've even seen a Play-Doh Doctor Drill 'N Fill set that lets your child BE the dentist.
We've also curated a list of fun tooth fairy gifts for when your child has lost a tooth. Check it out if you need some tooth fairy inspiration. These gifts may also make the dentist less scary and more fun!
5. Reward Your Child's Good Behavior
Once your kid's dental visit has come and gone, highlight the positives. Even if there were some tears, congratulate your child on going through with the visit and being brave. Each time it should get a little easier until — poof! — he's no longer afraid at all.
Even adults are scared of the dentists. That's why we should address these issues early on and fight the scary dentist trope head-on. Going to the dentist is vital to your child's dental health and there's no reason why he or she should dread it. If your child's fear of the dentist is really debilitating, you may want to consider going to a Pediatric Dentist in Roswell. These are dentists for children who are specially trained to communicate with them and work with their tiny mouths.
Have you helped your child overcome dental visit anxieties? We'd love to hear what worked for your family in the comments.
© 2018 Polkadot Pediatric Dentistry. Authorization to post is granted, with the stipulation that Polkadot Pediatric Dentistry, an Alpharetta, Johns Creek, and Roswell dentist, is credited as sole source.