Fun Tooth Fairy Gifts for Your Child's First Lost Tooth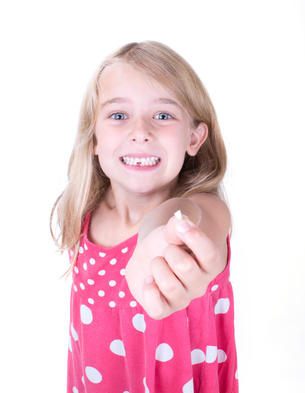 Tooth Fairy Gifts for Your Child – ALPHARETTA, GA – You remember the feeling, don't you? That first tooth loosening and loosening, finally coming out. Running your tongue along with the freshly exposed gum where your tooth used to be. It's exciting and a bit scary, growing up.
Losing your first tooth is an important rite of passage. Your child may have been hesitant to pull her loose tooth, or she may have been eager to pull it. Now that the baby tooth is gone, there will be room for your child's permanent teeth to grow. Use this milestone to discuss good oral health with your child, and make the event even more memorable and magical with a Tooth Fairy gift.
In celebration of your little one's first lost tooth, we've curated a list of five creative Tooth Fairy gifts sure to honor the occasion.
1. A Tooth Fairy Pillow
This gift is perfectly on-theme for your kid's first lost tooth. Most Tooth Fairy Pillows have a pouch where your child can safely store his or her lost tooth. Your kid slides his tooth into the pouch, and later that night the Tooth Fairy can easily find the tooth in the dark and replace it with cash.
If you're crafty with a sewing machine, you can try this DIY Tooth Fairy Pillow from Martha Stewart. If you'd rather purchase a Tooth Fairy Pillow, there are some fabulous handmade options on Etsy.
2. Origami-Folded Bills
Sure, it's great to receive money from the Tooth Fairy, but finding your bills folded into fun shapes will increase the thrill tenfold. Practice making hearts, stars, and airplanes. If you're more ambitious, you can create a seahorse, an elephant, an umbrella, a guitar, a spider, or a butterfly. There are amazing examples of what art can be achieved by folding a simple dollar bill. You will no doubt find lots of resources online where you can find instructions for dollar bill origami; we recommend using YouTube so you can see the folding in action.
3. A Personalized Letter
Your child might like to wake to a personalized letter under his or her pillow, complete with sparkly fairy dust. Get crafty and create something fun and tooth-themed. Cut the letter into the shape of a tooth or a smile, add bright colors, and write with a whimsical hand.
Don't have the time or the desire to craft? Maybe you're concerned your child will recognize your handwriting, or maybe you have bad penmanship. No problem! The Etsy shop Keep Magic Alive is a great place to shop for your Tooth Fairy needs. This Beechwood, Ohio, shop creates miniature personalized Tooth Fairy letters for your child stored in a convenient box. The 36-letter set will be ready whenever your little one loses another tooth, so you can enjoy the moment instead of scrambling for a Tooth Fairy gift.
4. A Baby Tooth Chart
Do you want to remember each tooth your little one loses? Easy. Get your child a Baby Tooth Chart. The chart can include a diagram of an open mouth, and each time a tooth is lost, your kid can record the date and, if he or she is so inclined, the circumstances of the lost tooth. When the chart is complete, you can store it in your child's baby book.
5. A Small Keepsake Box
Many children love to collect small things. Look for a special box or container that reminds you of your child. The box can hold the lost tooth and keep it safe beneath your kid's pillow. Then the Tooth Fairy can collect the tooth and replace it with money as a reward.
No matter how you choose to celebrate, this is an important day in your child's life. As baby teeth fall away, strong new permanent teeth take their place. Make sure your child knows that this is a special time. Discuss healthy brushing habits with your children, and see that they follow through with their daily oral care routines.
Does your family have a special Tooth Fairy tradition you'd like to share? We'd love to hear how your family celebrates lost teeth.
© 2018 Polkadot Pediatric Dentistry. Authorization to post is granted, with the stipulation that Polkadot Pediatric Dentistry, an Alpharetta, Johns Creek, and Roswell dentist, is credited as the sole source. Linking to other sites from this document is strictly prohibited, with the exception of herein embedded links.