Who has the Best Pediatric Dentistry?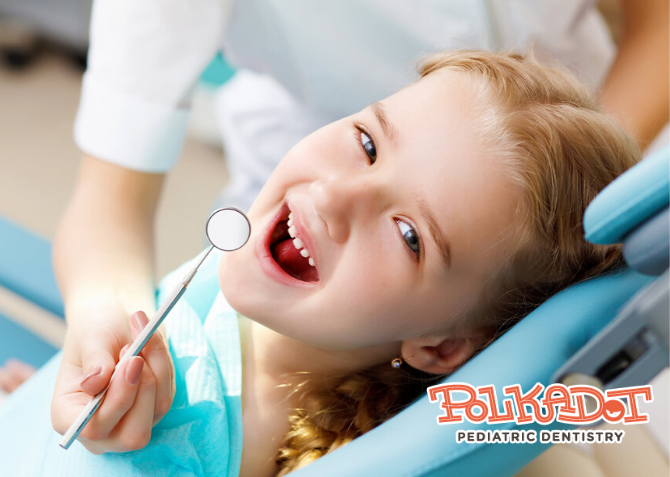 It is natural for your little ones to be a little intimidated when seeing the dentist. However, understanding the needs of your children in terms of dental services in advance is essential to guarantee them a beautiful smile later on. Finding the right Pediatric Dentistry can be tricky, especially as you will be looking for the perfect mixture of expertise and kid-friendly facilities and personnel.
Why choose Polkadot Pediatric Dentistry?
Polkadot Pediatric Dentistry has been voted the best Pediatric Dentist in Alpharetta, Johns Creek, and Roswell and one of the top pediatric dentists in America. Thanks to Dr. Nanna Ariaban, Polkadot has developed to become one of the most sought-after Roswell Pediatric Dentist clinics.
Undoubtedly, picking a specific clinic can be difficult for any parent, especially with such a range on the market. However, it is paramount to ensure that your children feel comfortable and that the clinic can offer an excellent level of expertise in the field. That is why more families are picking the services provided by Dr. Nanna Ariaban.
Moreover, the clinic is easily accessible in the area, and the services can be performed both on-site or in the general hospital. Get in touch to discover what we offer and how we can help your family.
Who is Dr. Nanna Ariaban?
At the core of Polkadot, one of the best Johns Creek Pediatric Dentistry clinics is Dr. Nanna Ariaban, or her youngest parents call her Dr. Nanna. After excelling and graduating from the University of Maryland and the University of Pennsylvania School of Dental Medicine, Dr. Nanna has become one of the most expert dentists in the field.
Today the clinic is equipped to offer everything that both parents and kids might need during their relationship with the dentist.
Services and facilities
What truly makes Polkadot Pediatric Dentist one of the best Roswell Dentist clinics for kids is its services and facilities.
This board-certified pediatric clinic operates at a low volume practice. This characteristic might seem a bonus at first, but more anxious children might need more attention and time to adapt. Since Polkadot believes that each child is unique, Dr. Nanna and her team ensure that each visit is unique, and the young patients are comfortable and happy through the process. To do so, the clinic guarantees that you will find the same doctor at every visit and that parents can accompany their little ones in the treatment area.
However, Polka Dot also believes in making the whole experience kid-friendly. That is why you will find TVs in the clinic above every treatment chair and various entertainment areas.
Independently on what kind of treatment your children need, you can be sure that each case will be examined thoroughly and addressed with state-of-the-art equipment. The range of services offered here are endless, and they include:
Digital X-Rays
Dental Fluoride
Dental Sealant
White Filling & Restoration
Dental Crowns
Baby Root Canal
Nitrous Oxide
Sedation Dentistry
Emergencies
Tooth Extractions
Nutrition Counseling
What you can expect
As a parent, you might need to find an affordable solution without compromising on your kids' dental health. This dilemma might not always be easy to solve, especially as often lower prices coincide with lower quality treatments. However, at Polkadot, Dr. Nanna understands that each child's smile is invaluable, and that is why you can expect only the highest-quality therapies in the clinic.
Some of the perks that each parent can enjoy after booking an appointment with Dr. Nanna include flexible appointment hours, including after-school and same-day emergency visits. Moreover, the clinic is in-network with most insurance plans and offers discounted prices to the parents without an insurance plan.
Aside from the dental treatment, you will also be able to discuss dental hygiene routine and nutrition with the dentist.
What your little ones can expect
Finding Polkadot might be an excellent experience for any parent, but it will be just as exciting for the young patients. Indeed, your little ones can find a kid-friendly atmosphere, which includes play areas, toys, video games, and movies.
Moreover, Dr. Nanna has spent years studying, practicing, and refining communication techniques that can help distract the most anxious of patients while keeping them entertained. Along with the fact that you, as a parent, will always be informed and updated about what is happening to your child, the doctor will speak directly to the young patients, putting them at ease in any circumstance.
You can always know what treatment your child is undertaking, and the ability to be them with them as they go through this critical moment of their life make the clinic one of the best in America.