Tooth-Healthy Desserts for Kids in Johns Creek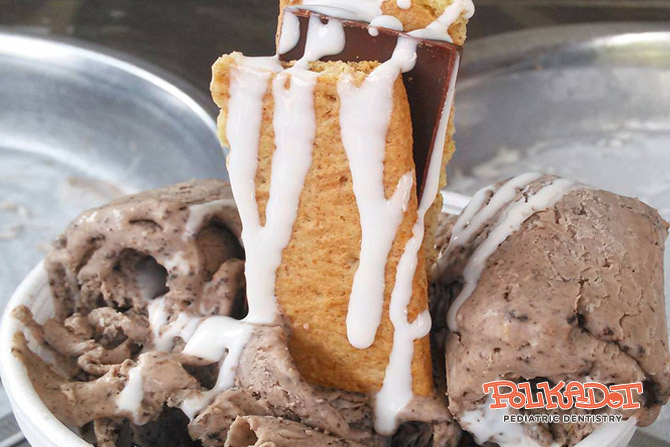 Tooth-Healthy Desserts for Kids – As pediatric dentists in Johns Creek, we know how much kids love sweet, sugary treats! Even though candy, cookies, and other desserts can be quite delicious, excessive sugar can have a negative effect on your oral and overall health. This is especially true for kids, as they are still growing and need a lot of vitamins and proteins to grow strong, healthy teeth and bones. Many parents are surprised to find out just how much their child's pediatric dentist asks about their child's diet at their dental appointments, but when you're working with kids, you need the whole picture! Tooth damage, cavities, and other issues at a young age can be the result of vitamin deficiencies, genetics, or an excess of sugar or other corrosive foods. 
While it is important to maintain a healthy, balanced diet in your and your child's daily life, we understand that sometimes you just have to treat yourself! There is nothing wrong with enjoying a special sweet treat every once in a while. After all, kids will be kids! If you're going to treat your family to a sweet dessert, we recommend opting for ice cream or frozen yogurt. While these cool treats are creamy and delicious, they also pack some tooth-healthy nutrients and benefits like calcium, protein, and even probiotics if you're choosing frozen yogurt. Luckily, we've got plenty of delicious ice cream and frozen yogurt places right here in your city. We've put together a list of some of the most popular and pediatric dentist-approved local spots in John's Creek. Enjoy!

If you want to be completely in control of your ice cream experience, check out Freeze Cream! At Freeze Cream you can completely customize your ice cream ingredients, and see it immediately frozen right in front of your eyes in three minutes or less! You can choose from their milk base or a dairy-free base like coconut milk or almond milk. If you or your child have any dietary restrictions or allergies, this is the place to go!
SweetFrog is an awesome self-serve frozen yogurt chain that has a franchise right here in Johns Creek! SweetFrog offers a ton of yogurt flavors and an impressive variety of all the toppings and sauces you could dream of! One of the best things about self serve froyo is the ability to control portion sizes, especially for parents with little kids. The probiotics in yogurt also support gut health and healthy digestion.
Another delicious spot to try fresh, customizable nitrogen ice cream in Johns Creek is Subzero! Subzero offers plenty of base options, flavors, and toppings, meaning there will be something for everyone. You can choose from one of their specialty concoctions, or make up your own combination. They even cater! Subzero also offers educational presentations focused on STEM subjects explained through ice cream. What a great community resource!
If you're looking for an Instagram-worthy ice cream treat, or just looking to switch things up from a regular scooped or soft serve ice cream, try some rolled ice cream from Where's the Scoop! Where's the Scoop serves Thai-inspired rolled ice cream that they make fresh daily. Rolled ice cream is a little thicker and more frozen than scooped ice cream, so some may say it's a little more refreshing on those hot summer afternoons we get here in Johns Creek! Where's the Scoop also serves coffee drinks and boba if you aren't in the mood for ice cream. Yum!
Another great place to try rolled ice cream in Johns Creek is Snowy Rolls! They offer a large menu of ice cream flavors made fresh daily with milk and cream from local farms. In additional to all the flavors, they also have plenty of toppings to choose from! If ice cream isn't your thing, you can treat yourself to a fresh fruit smoothie full of vitamin C!
Coldstone Creamery is another well known ice cream chain that has a storefront right here in Johns Creek! Guests can enjoy one of their speciality sundaes, or design their own ice cream treat with their favorite ice cream flavor and toppings! Coldstone is known for mixing the toppings or your choice right into your ice cream in front of you! If you're looking for some thick, creamy, classic ice cream, Coldstone Creamery is always a great option!
Wow, so many options! We hope that this list helps you and your family find your new favorite ice cream spot in Johns Creek. Remember, moderation is the key to enjoying a healthy, happy diet and life. Starting out with good, healthy habits early in your child's life will help them grow up to make good decisions about what they eat.
If you're ready to schedule your child's next pediatric dental appointment at Polkadot Pediatric Dentistry in Johns Creek, call our office today! We're here to help.