How to Save a Knocked-Out Permanent Tooth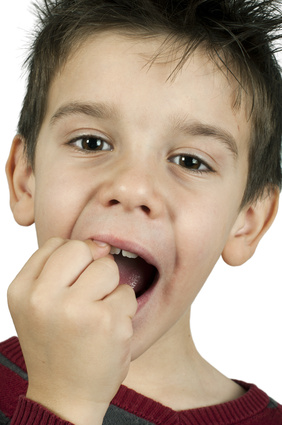 Children will begin to lose their baby or primary teeth which are replaced by their secondary (permanent) teeth around the age of five or six. While it can be unsettling to see your child lose a baby tooth due to an accident, baby teeth have a natural back-up plan and will eventually be replaced by permanent teeth. Permanent teeth, on the other hand, have no natural back-up plan on which to depend.
When your child suffers an avulsed tooth due to a direct hit during sports or due to an accident, the first thing is to assess how badly he or she was hurt: Do you need to call 911, or will your child be able to go with you to the dentist or the dental emergency room on their own.
The second thing is to find the tooth that was knocked out because time is critical at this point. When you find the avulsed tooth, there are steps that should and should not be taken for proper knocked out tooth treatment such as:
Do not touch the roots of the tooth; only touch the crown of the tooth
Do not wipe the tooth with a cloth, your shirt, with a tissue or paper towel
Do not wash or brush the tooth with soap or chemicals, even if it is covered with dirt
Do not remove any tissue or gum fragments from the tooth
Do not place it under running water for longer than 1 or 2 seconds
To do any of the above could cause permanent damage to the tooth's roots and could possibly cause Root Resorption: The destruction or loss of the tooth's root structure. To ensure the safety of the tooth, it is best to do the following:
Call your pediatric dentistry or your baby dentist immediately
It is imperative to place the tooth back in the socket within the first hour of the accident
If the tooth will not go back in easily, do not force it and place the tooth in a small container of whole milk, saline, or have your child spit in a container and place the tooth in it for transport
If any of the above are not available and if your child is not in danger of swallowing the tooth, have them place it between their cheek and gum until you reach your dentist's office or the ER
The key is to keep the tooth moist at all times to prevent root damage. Milk or saline have a similar pH to saliva, so it's best to immerse the tooth immediately in the above listed liquids. Plain water is not a good choice, but if it's all you have, then you should go with that.
Finding a good pediatric dentistry practice in your area is your best guide for emergency situations. Dr. Nanna Ariaban at Polkadot Pediatric Dentistry in Alpharetta, Georgia can offer guidance and information on how to best handle your kid's broken tooth or avulsed tooth should an emergency ever arise.
Dr. Nanna Ariaban is a board certified pediatric dentist and owner of Polkadot Pediatric Dentistry located in Alpharetta GA. She is a member of the American Academy of Pediatric Dentistry, Georgia Academy of Pediatric Dentistry, the Southeastern Society of Pediatric Dentistry, and the American Dental Association. Dr. Nanna provides highest quality pediatric dental care in Alpharetta, Milton, Johns Creek and Roswell, GA for infants, children, and teens. She was recently voted as America's top pediatric dentist for two years in a row.
Latest posts by Dr. Nanna Ariaban (see all)