Benefits of a Child-Focused Dental Practice [Updated for 2018]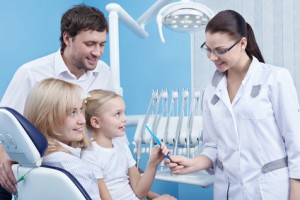 Alpharetta, GA – For children, a visit to the dentist may be one of the scariest things they do, making the process difficult for both children and parents. However, when parents choose a dental practice that is especially designed for children, it can make the whole process easier for kids. They can relax because they will feel cared for in a comfortable, friendly environment. There are several ways to identify a child-focused dental practice.
Lots of Fun Décor
White walls and ceilings can intimidate children. Even offices that provide great dental services may be more geared toward adults and lack the comfort that children need to receive from their health care providers. Kids enjoy visiting child-focused dental practices for the fun and colorful decor that makes the space feel more welcoming. They will forget why they are at the dentist when they can look forward to games and books available in the waiting room, as well as entertainment on the televisions above the hygienist's chairs. Dr. Nanna Ariaban has created a fun theme for her pediatric practice that is carried throughout the office with bright polka dots adorning the walls.
Friendly Staff
The staff of Polkadot Pediatric Dentistry understands the importance of making friends with the kids who visit and taking extra steps to initiate conversation and keeping them entertained as they wait. It will help children to feel more comfortable when they receive dental care in an environment where everyone knows their name and enjoys asking them about their favorite sports, shows, and hobbies.
Extra Accommodations
As an Alpharetta kid's dental restoration specialist, parents are encouraged and welcome to stay near their children during exams to allow their child to feel more comfortable with a familiar face nearby. When it is time for fillings or other operative treatments to be performed, parents are allowed to wait behind the glass doors so they may observe the procedure without interfering with the treatment. "Children are told their parents are nearby and watching as silent observers to help put them at ease," says Dr. Nanna. These practices were established to make for a smoother and quicker process, while making it easier for kids to come back without uneasy nerves.
Low Volume
Dental practices geared toward children also have low volumes, making it easy for the staff to maintain a professional office and for each child to have the attention they deserve for service that is more personal and inviting. Not all practices are child focused and operate with a high volume philosophy. Dr. Nanna believes that children do not receive the best possible care in this environment and says, "Our practice is low volume compared to the corporate pediatric dental offices that are all over Georgia."
Specialized Care
At a pediatric dental office, children are cared for by a professional who is experienced with children and knows how to deal with problems specific to kids. A general dentist may not understand the complexities of a developing child whereas a pediatric dentist can diagnose and treat children's teeth at every stage of growth. Not only do pediatric dentists have the technical know-how, they're trained to understand and communicate with kids even when they're being fussy.
Instead of visiting a dentist who is unaware of children's needs, kids can feel at ease for a process that is not rushed, ensuring the child has a pain-free exam or dental procedure. Our Roswell Pediatric Dentist, Dr. Nanna has special experience handling both the fears and needs of children and special needs young adults.
© 2018 Polkadot Dental. Authorization to post is granted, with the stipulation that Polkadot Dental, a Johns Creek pediatric dentist, is credited as sole source.