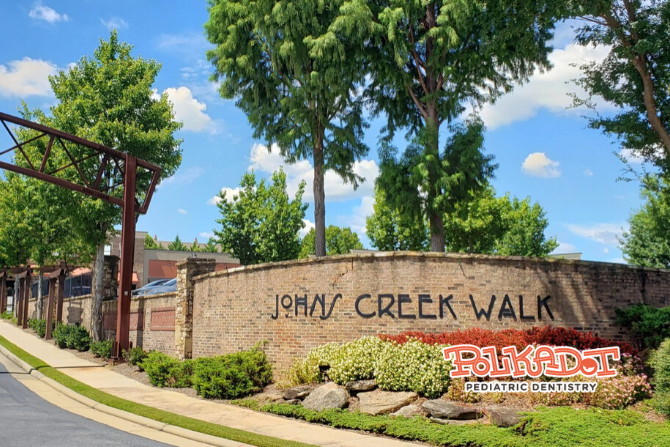 At Polkadot Dental, we're not just proud to serve the good people of Alpharetta and Johns Creek GA, we're also proud to be a part of the community. After all, when we're not removing braces, adding composite fillings or setting veneers, we love nothing more than involving ourselves in the city's goings-on. Johns Creek was voted number 3 in USA TODAY's 50 best cities to live in with good reason. There's always something awesome going on, and a wonderfully vibrant sense of community that residents and visitors alike can enjoy together. 
While Georgia winters are known for their snow and frost, you can always be assured of a warm welcome when you attend any of the following seasonal events coming up. While Breakfast with Santa and the Christmas Tree and Dreidel lighting ceremonies have been and gone, there's still plenty to look forward to. 
Hopefully, we'll get to see you at one of the following events in or near Johns Creek. And don't worry, we won't even get mad at you for enjoying cotton candy or caramel apples…
Suite Life Fridays hosted by Big Tigger
Ladies might want to head on over to the Suite Life Lounge in Atlanta on Friday, January 3rd for Suite Life Fridays hosted by hip hop star and BET personality Big Tigger. Starting at 10 pm the event doesn't wind down until 3 am so be sure to bring your dancing shoes and pay the babysitter overtime!
Who says that the party's over after New Years'? 
ATL #1 Brunch Day Party
Who doesn't love brunch? It combines the very best foods that we love from breakfast and adds Bellinis. Who says you can't improve on perfection. And if you've got a big appetite (and don't mind holding off on your New Years' resolutions) you might want to check out the sumptuous buffet-style feast at Oak Atlanta.
Held on Sunday, January 5th at 2 pm the event is a great change to catch up with friends over a leisurely brunch as the DJ delights your ears with a selection of the '90s and '00s RnB treats. Treat your senses to a little indulgence at the start of the year before you commit to your diet.

Valentines Enchanted Evening at the Chattahoochee Nature Center
Couples of all ages will come together in the spirit of love in Johns Creek this Valentine's Day. But instead of the usual combination of dinner and a movie, why not treat your significant other to something extra special this Valentine's Day? 
Head on over to the Chattahoochee Nature Center for their Enchanted Evening Date Night on Monday, February 10th for an evening of enchantment in the bosom of nature. There'll be free coffee samples courtesy of Kauai Coffee and a cash bar followed by laughter and merriment under the stars culminating in a screening of the classic romantic comedy Groundhog Day. 
Best of all, entry to the event is included with the price of admission and completely free to CNC members. Doors open at 6:30 pm and the event ends at 9:30. 
Click Here to find out more.
Easter Egg Dash and Spring Break Party
What better way is there for families to see out the first quarter of the new decade than with some Easter-themed celebrations? This beloved event at Johns Creek's Shakerag Park is a highlight on the events calendar for families with kids under 10 years old. 
The event is completely free for families with little ones and sponsored by Johns Creek's Parks and Recreations department. There will be no less than 20,000 eggs to be found throughout the park as well as toy prizes and all kinds of chocolate goodies. The event will be held from 1 am till 2 pm and little ones aged 0-4 will need to be ready at 11:30 am sharp to start their egg dash.
Older kids will dash off at 12:30 pm sharp to start their own dash. Of course, when kids need a break from egg hunting there will be all kinds of events for them to enjoy including face painting, a moonwalk, and photos with the Easter Bunny as well as all kinds of age-appropriate activities as part of the egg dash.
For more information, feel free to get in touch with the Johns Creek Recreation and Parks at 678-512-3200.
As you can see, there's something for all ages in and around Johns Creek at the start of the year. We hope to see you there!