Best Birthdays Spots in Johns Creek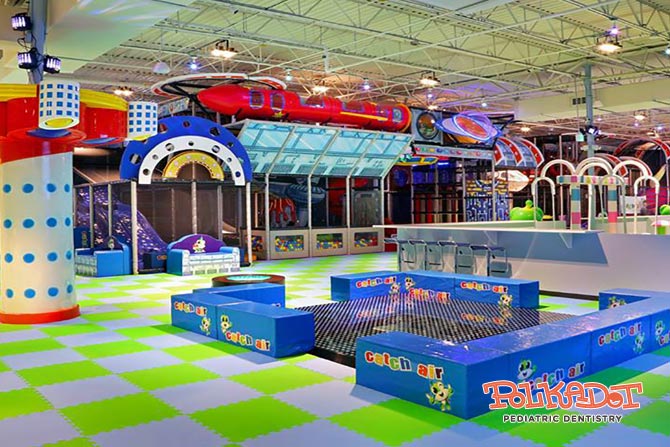 Besides Christmas, what is one day of the year that your child will always get excited about? It is their birthday, of course! Birthdays only come around once every year, so it is important to make lasting memories with your children. There are a few wonderful places located in Johns Creek that are perfect for having an amazing birthday party for kids.
Planning a great birthday party doesn't have to be rocket science. You just need to figure out what your kid likes or wants to do and plan accordingly! You can decide to choose a party that you put together yourself, or you can take your child to a place with staff that can plan out the party for you. Either way, your child will thank you and remember this birthday for years to come.
This is a place where kids and adults will have lots of fun. This indoor Adventure Trampoline Park at Johns Creek offers great birthday parties packages, featuring Ninja Course, Warped Wall,  Axe Cage, Escape Room, Smash Room, Splatter Room, Trampolines, DodgeBall, Foam Pit,  and a cafe.
It promises fun for the whole family as it has also Girls' or Guys' nights out, even date nights and adults events. Masks are required, and there are different prices to enjoy the fun (General Admission, XCard Savings, and the Xtreme Attractions package).
If you want to continue the adventure, Sojourn will take you far and beyond with their ropes and exhilarating activities.
Their birthday parties include 2 hours of programmed activities with trained guides for on-ground and/or high-adventure activities (Giant Swing & Cargo Net Climb, Outdoor/Indoor Rock Climbing, and Tactical Laser Tag).
Packages include lunch and a Pizza meeting area, GaGa ball access, 4-square, and more! Without a doubt, your birthday party will be a collection of fun and incredible memories for kids and adults.
If your child is into arts and crafts, then Paint & Party is the perfect place to have a birthday party. The activity is all in the name. You paint… and party! The location supplies the canvas, the paint, and the brushes, so you don't have to worry about a thing. A professional and super fun teacher will guide the children in a step-by-step process to complete the picture of your choosing on a 16×20 sized canvas. The kids will have so much fun and will feel like little professional artists in no time.
The cost is $250 for up to ten participants, with a $25 fee for each additional person. The party lasts for 2 whole hours, and the birthday child receives an original "Birthday" painting that their guests can sign for them!
You can bring your own party decorations if you wish, and you are also welcome to bring in food and of course, a cake! Each child gets to take home their own masterpiece after it is finished. It is important to wear the appropriate attire since acrylic paint can stain, so make sure your child wears something they can get messy in.
Paint & Party is located at 11585 Jones Bridge Road, Suite 630, Johns Creek, GA 30022. They can be reached at (404) 542-5884 if you have any other questions.
Catch Air is the perfect party location for your child if they have constant energy! This place is an awesome children's indoor play center. The list of fun is nearly endless at this cool spot. Catch Air provides fun, safe, unique, dynamic, and interactive activities, so your child can have the time of their lives. They also have laser shows, bubble dance parties, a giant three-story soft play castle, interactive toys, and more. Catch Air is for children up to 12 years old, and they have party pricing and walk-in pricing.
For up to 8 kids, the price for a party during the week is $239, and during the weekend for up to 8 kids it costs $329. The price increases with the number of children attending. Private parties are available for up to 16 or up to 27 kids.
Call to make arrangements if needed. Catch Air parties have all the perks! The party includes 80 minutes of playtime and 40 minutes of party room time, free drinks for kids (juice or water), a private party room, a slideshow dedicated to your child on a large screen, laser bubble dance, and an animation laser show, and set up and cleanup.
No outside food is permitted, but you are allowed to bring your own cake, and there are food options available for purchase inside.
Catch Air is located at 10950 State Bridge Rd Johns Creek, GA 30022. They can be reached at (678) 242-0311 if you have any other questions.
Top Play is another indoor play center where fun and imagination meet! This particular location is designed for younger children, and it allows them to explore, exercise, socialize, stimulate mind development through pretend play, and, of course, have fun. They have a four-level play structure and even have a "Tiny Town."
The Tiny Town is exactly like you would imagine it. They have almost everything a regular town would have but in miniature form. It has a two-level playhouse, a café, vet, firehouse, grocery store, and a jump pad. This is the perfect spot for energy-filled little ones.
Top Play does do party packages and has different levels of pricing depending on the number of children that will be attending. The first level is the Top Play Star for up to 8 children, and weekday prices for this package are $229, and weekend prices are $299.
The price increases as the number of children increases. Your party package includes a super jumper, the birthday child's name on a laser wall, 20 arcade tokens for each child, a free drink for each child, 75 minutes of play, and 45 minutes in the Private Party Room. Outside food is not allowed, but you can bring a birthday cake.
Top Play is located at 7230 McGinnis Ferry Rd Ste 125 Suwanee, GA 30024. They can be reached at (770) 884-2120 if you have any other questions.
A Park
A park in the Johns Creek area is going to be the easiest place to have a fun-filled birthday. There are so many parks in Johns Creek, so picking a park can be as easy as finding the nearest one! Parks are great because you can go to a nice shady spot, find some tables, and have your very own themed party.
Ocee Park is located at 10900 Buice Rd, Johns Creek. It is a recreational area with a playground and several athletic fields, including baseball and soccer. This park is one of many located in the Johns Creek area.
Utilize your local park and their playground to your advantage, and have a wonderful time celebrating your child!
We hope you enjoyed learning about the best birthday spots in Johns Creek. If your child is in need of a dental checkup, give us a call at our Alpharetta office! If you have any questions, we at Polkadot Pediatric Dentistry are happy to help.