Children's Dental care, Pediatric Dentist
Children Should See the Dentist by 1 Year Old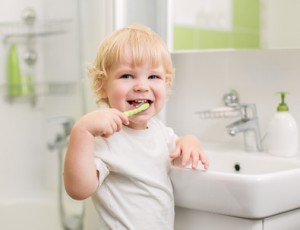 ALPHARETTA, GA– A Toronto research hospital published a study that discovered only 39% of healthy children receive dental care by the recommended age of 12 months. That is a frightening result! Dr. Nanna and the American Dental Association recommend that a child should have their first dental visit by the time they are 1 year old. The study surveyed children 2,505 children through the age of 4 years old. The study also found that never having been to a dentist could be related to prolonged bottle use, more consumption of sugary drinks and juices, and lower income families.
The study by Dr. Jonathon Maguire, a pediatrician and researcher at St. Michael's Hospital, also found that less than 2% of babies had seen a dentist by the age of 24 months. That is not good. We know early dental visits establish a comfort with our Roswell pediatric dentist, which will help your child grow up without any fear or anxiety of the dentist later in life. Many people develop a dental trauma when they grow up if they are not used to someone examining their mouths. But we don't want your children to develop any dental anxiety.
Polkadot Pediatric Dentistry stresses the importance of pediatric dental care and treatment. We perform above and beyond care with a smile by talking with your child and performing relaxation techniques. Our staff makes children feel comfortable and entertained while we professionally perform the latest techniques and services. We believe it is better for children ages 2 and older to safely use fluoride toothpaste, especially one that contains the American Dental Association's seal of acceptance.
We are experts in performing gentle and healthy oral hygiene habits, and we can teach your children in Roswell and Johns Creek. If your child needs x-rays or a baby root canal, Dr. Nanna is an expert with children of all ages, including special training for patients with physical and mental disabilities.
Dr. Nanna suggests parents can make brushing a growing experience when she says, "I believe children and parents should practice good oral hygiene by brushing together. At about age 3, your child should begin practicing proper brushing habits and understanding 'why' we brush. Show your child taking care of their health is a mature and rewarding experience. "
If your infant has yet to sprout his/her first tooth, you should gently wipe their gums with a damp washcloth after feedings to remove residue and bacteria. As teeth begin to grow in, gently brush them with a soft-bristled toothbrush and a pea-sized dollop of toothpaste.
There are also specific foods that are better for a baby's dental health that our Alpharetta pediatric dentist can help educate parents about. If you take your child to a pediatric dentist before the age of 1, they will go over how to handle bottle feeding and the use of pacifiers to keep your child's teeth and jaw development healthy.
For more information on pediatric dental care from our experts in Georgia, contact our office at (678) 389-6669.
© 2018 Polkadot Pediatric Dentistry. Authorization to post is granted, with the stipulation that Polkadot Pediatric Dentistry, a Johns Creek dental practice, is credited as sole source. Linking to other sites from this document is strictly prohibited, with the exception of herein imbedded links.