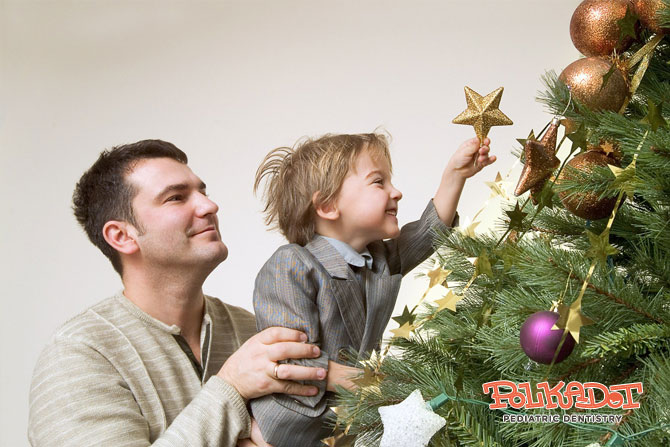 Happy holidays! This time of year is filled of all different kinds of special treats, including lots of sugary snacks that can wreak a lot of havoc on your child's teeth. However, there is no reason to stop the celebration! There are plenty of ways to enjoy the winter holidays aside from consuming sweets. Here are some tooth-friendly ideas!
Deck the Halls
Nothing says happy holidays like festive decorations! Invite your child to help you decorate your home this holiday season. This is the perfect opportunity to get into the holiday spirit without damaging their teeth. Your child can help you hang ornaments on your Christmas tree, help put up lights (with a LOT of supervision), and help you decide how to arrange all your other decorations this season. They are sure to have plenty of opinions and ideas. Have fun!
Find a Holiday Event
There are plenty of ways to spread and receive holiday joy outside of your home this season! There are a lot of great events in the community for you and your family to attend. Whether you're looking to meet Santa, bake cookies, attend a Christmas concert, make challah bread, or take a holiday cooking class, Alpharetta will definitely have something fun to try! Check out our community event calendar for more information about these great opportunities to celebrate.
Community Service
A wonderful way to get into the holiday spirit is to give back to the community! You can donate toys to a local toy drive so that families in crisis will have the opportunity to give their children Christmas presents, or put together Christmas packages for homeless shelters or deployed soldiers! Instilling the spirit of giving in your child early will help them develop the habit, and will make for an even more rewarding holiday season of celebration.
Gift Exchange
A lot of kids look forward to giving and receiving presents during the holiday season. Get them even more involved this year by letting them help! Ask your child if they would like to help you choose presents for the other members of your family, or have a wrapping party! This will help them feel more invested in the gift exchange process, and build their excitement about what is in their own presents under the tree.
Fill Their Plates!
Of course, an important part of any holiday celebration is food! We know it is important to share your favorite family traditions with your child, including classic family recipes! Invite your child to the kitchen to help you prepare their favorite dish this year! While desserts and sweet treats don't need to be completely removed from the table, balance them out with plenty of tooth-healthy foods like fruits, veggies, and proteins. If you're feeling creative, consider trying healthy twists on your favorite holiday desserts!  
We hope you and your family have a great time celebrating the holidays this season! Don't forget to start the new year off right by scheduling your child's pediatric dentist appointment with us today. See you then!